PT NSHE PLTA Project Claims Not Disturbing Orangutan Habitat
Republika,.
05 March 2019
https://m.republika.co.id/berita/nasional/daerah/19/03/03/pnsee1327-pt-nshe-klaim-proyek-plta-tak-ganggu-habitat-orangutan
Editor: Muhammad Fakhruddin Reporter: Maman Sudiaman
Material of Batang Toru Hydro Electric Power Plant (HEPP) 28 February 2019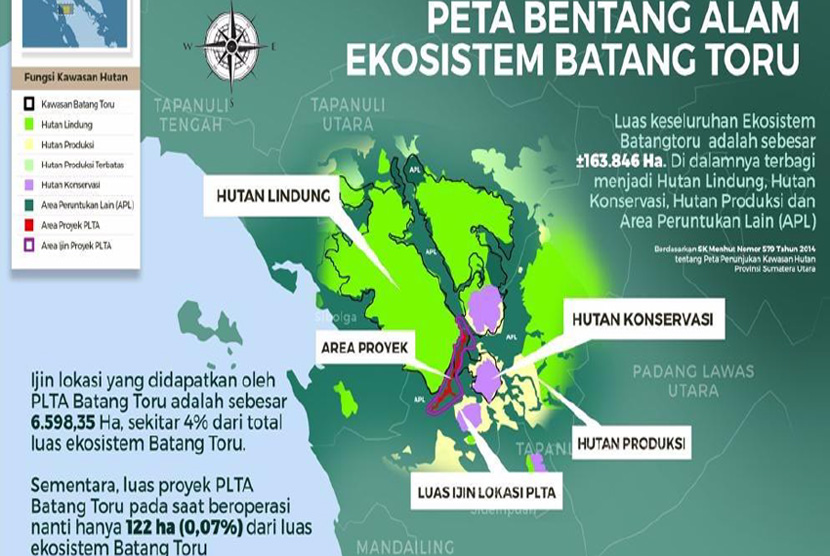 REPUBLIKA.CO.ID, JAKARTA - The manager of the Batang Toru hydropower project, PT North Sumatra Hydro Energy (NSHE), claimed that thehydropower plant (PLTA) construction project did not disturb the orangutan habitat of Tapanuli (Pongo tapanuliensis). The reason is that the government, covering an area of 163 thousand hectares, only limited to 122 hectares out of the total area permits the project area under the project management.
ADVERTISEMENT
More than that, according to the environmental advisor at PT NSHE, Agus Joko Ismanto, orangutan Tapanuli habitat is usually at an altitude above 700 of the sea level. "Meanwhile the position of our project is above approximately 400 above sea level," he told reporters recently.
However, he said, he did not dismiss if there was still concern that the project worth 1.6 billion dollars would damage the surrounding environment. According to him, various scientific studies have been carried out by involving a number of universities. "We also prepare a long-term research and research area on 32 hectares of land for the conservation of ecosystem in Batangtoru," he said.
According to Senior Executive for External Relations PT NSHR, Firman Taufik, the Batang Toru hydro-power project is a project model that does not use a very large area. The project that will produce electricity of 510 MW will ultimately reduce the use of diesel power plants. Therefore, he said, this project would reduce carbon emissions launched by the government by 29 percent in the coming 2030. "This project contributes to the reduction of 1.6 mega tons per year or around 4 percent of the national target. Also saving foreign exchange is US $ 400 million per year," he said.
Rejection of the Batang Toru Hydro Electric Power Station: Activists from the Indonesian Environmental Forum (Walhi) of North Sumatra wearing costumes and masks depicting the Tapanuli Orangutan during a demonstration at the Chinese Consul General in Medan, North Sumatra, Friday (1/3/2019).
Informed, the action against the construction of this project is still ongoing. On Friday (1/3), the action was held by the Chinese Consulate and several days a similar action was carried out by Walhi North Sumatra in front of the Bank of China office. Walhi believes that the presence of the hydro-power threatens the surrounding environment, including orangutan Tapanuli (Pongo tapanuliensis) habitat. Though the number of animals in the Batangtoru forest is estimated not to be up to 800 individuals.